I'm a pretty big fan of Giada de Laurentiis; in addition to learning a heckuva lot about Italian cookery from her, she's just a big sweetheart.  Anyways — lazy cookery mode in still in full swing — I was thinking about what to make for dins tonight without taking up too much time (there's Diablo III to play) and WHAMO! a pasta craving hit me.
I haven't made stuffed manicotti in years, and was pottering about online for ideas when I came across a recipe of Giada's.  I'm pretty sure I've made it before, but looking at the ingredients now, I'm shocked by the FAT content there must be in this recipe — FAT that I don't particularly think adds any flavor.  We all want to enjoy full-flavored food (FFF), but this just sounds unnecessarily heavy and not that tasty.  So I've decided to fix it.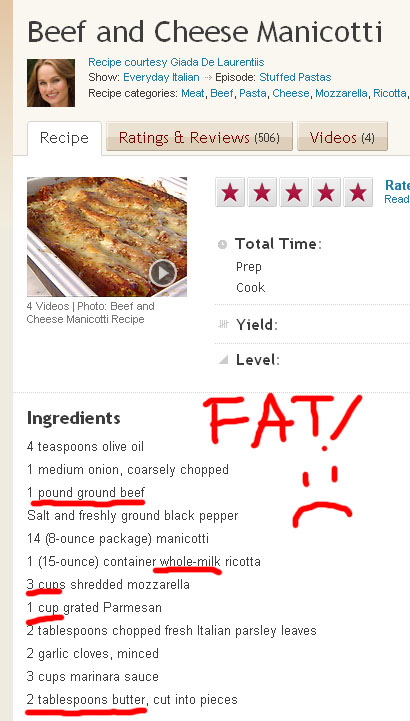 Before I give you the recipe, let me state that I see no reason for some of the ingredients in this dish, particularly the ground beef and whole-milk ricotta, so I'm substituting lean ground turkey sausage and skim ricotta; I can get as much flavor out of both, and pre-shredded store bought mozzarella has no flavor anyway so I may as well use skim.  It's just for a melty, chewy texture.  And the butter?  Omit!
Turkey Sausage Stuffed Manicotti
Serves 4.
1 tbsp extra-virgin olive oil
1 onion, chopped
2 cloves garlic, minced
1 lb lean turkey sausage, casings removed (I'm using sweet)
kosher salt
crushed red pepper flakes
8 oz package manicotti
1, 15 oz container part skim ricotta cheese
3 cups skim-milk, shredded mozzarella
1 cup freshly grated Parmesan
2 tbsp chopped fresh Italian parsley
2 tbsp chopped fresh basil
nutmeg
freshly ground black pepper
3 cups marinara sauce (see note)
Preheat your oven to 350 F / 180 C.
Heat the olive oil over medium heat in a medium skillet.  Add the chopped onion, a good sprinkling of salt, and a pinch of crushed red pepper flakes and cook until translucent, about 8 minutes.  Add the garlic, cook for 30 seconds, and then add the turkey and another sprinkling of salt.  Break up any lumps with a wooden spoon and cook until the turkey is lightly browned and cooked through, about 5 minutes.  Remove from heat, drain any excess fat from the pan, and let cool.
Meanwhile, bring a large pot of water to the boil and salt it with reckless abandon.  Cook the manicotti until they begin to soften but are still quite firm (about 5 minutes).  Carefully remove them, put them on a plate and cover with a slightly damp paper towel while they cool.  Don't let them touch, or as they dry the starch will force them to cling together.
Next, combine the ricotta, 1 1/2 cups mozzarella, 1/2 cup Parm, parsley, and basil in a bowl.  Add salt and freshly ground black pepper to taste and a pinch of nutmeg.  Taste for seasoning.  Add the cooled turkey mixture.
Brush a teaspoon or two of olive oil into the bottom of a 13x9x2 glass baking dish to get it nice and lubed.  Pour half the marinara sauce into the bottom of the dish, spreading to coat in an even layer.  Carefully stuff the manicotti with the filling and place in a single layer in the baking dish.  Pour over remaining sauce, sprinkle with the rest of the mozzarella and Parm, and bake (unconvered) about 30 minutes until everything is bubbly and it's getting nice and browned.  Rest for 5 minutes, and serve with a salad.
As you can see, it's not fat free or something I'd particularly recommend if you're dieting, but it's an example of how we can cut out some fat without sacrificing any of the flavor.  I started doing the math, but got lazy; just let it be known that this recipe cuts off several hundred calories and many grams of fat.  For those interested, the original recipe is here.
*Note on marinara sauce.  I am loathe to use store-bought marinara, because I think the vast majority of it is absolute rubbish and you can very easily make your own while the rest of the stuff is cooking.  If you do insist on using store-bought, use only GOOD marinara sauce, like Rao's.
Super quick marinara:
Cook a diced onion and a pinch red pepper flake over medium heat in a bit of olive oil with a good sprinkling of salt until translucent.  Add two cloves minced garlic and cook for 30 seconds.  Turn the heat up to medium-high, add 1 tbsp tomato paste and 1 tsp sugar and cook for 3 minutes, stirring, until the tomato paste is very aromatic and starting to brown.  Deglaze with 1/3 cup red wine vinegar (careful, it will be very pungent) and reduce the vinegar down.  Add 28 oz crushed tomatoes, a good amount of salt, and simmer for 20 minutes until thickened slightly.  Check for seasoning; tomatoes need a ton of salt.  Voila.