Though over the past year or so I've tried to explore cookery via my own instincts — sometimes to great success, and sometimes to dismal failure — it's no secret that most of my culinary knowledge hails from cookbooks.  Recently, during a bout of procrastination, I decided to tally the number of cookbooks I possess and to my surprise, the figure lies somewhere around eighty.  I'm not sure whether that's high or low for a home cook (I happen to know Nigella Lawson has several thousand, but she's a few decades and several billion pounds sterling ahead of me), but in my circle it makes me something of a cookbook authority, I suppose, and over the past year many people have come to me asking what books they "need."
While everyone's cookery goals are personal and my recommendations might vary, I've compiled a list of my top ten cookbooks.  So read on, buy on, cook on!  It's a countdown, kids, so get excited.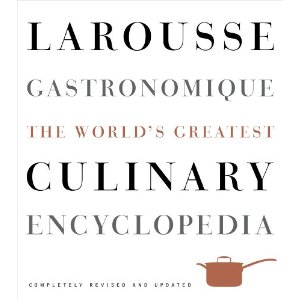 10.  Larousse Gastronomique
In publication since 1938, Larousse Gastronomique is described as "the world's greatest culinary encyclopedia," and I believe that's a fairly accurate statement.  It's a wonderful, wonderful book to have as a reference, and that's why I list it in at number ten.  While it contains recipes after some articles, this volume isn't a cookbook so much as a food enthusiast's dictionary.  It's also bloody heavy and bloody expensive.
When you get very, very serious about food, pick up this book.  It has information and culinary history that you don't even find on the internet (gasp!), and will be your go-to reference when you need to break down that rabbit or saddle of lamb.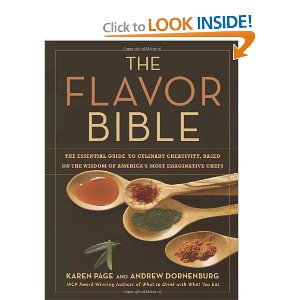 9.  The Flavor Bible
Similarly, The Flavor Bible is more reference than instruction.  Rather than give the reader a recipe, the authors of the book, having conspired with famous chefs from around the globe, painstakingly describe various ingredients — be they artichoke, goose, or abalone — based on their flavor profiles.  The book explains how something should taste, and more importantly, lists what other foods taste great with it.  For example, you'll learn that red onion + apple cider + celeriac is a great combination.
This isn't exactly for the faint of heart, though (albeit infinitely more approachable than Larousse), and would probably only benefit a serious foodie, hence why it only ranks in at number nine.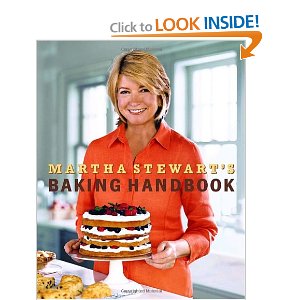 8. Martha Stewart's Baking Handbook
I'm not the world's best baker; I'm the first to admit this sad truth.  I enjoy the 'baking' in theory, but oftentimes the act of baking itself is like dealing with a fussy queer: it's demanding, concerned with appearances, and can screw you over at the slightest misstep.
Oftentimes the act of baking itself is like dealing with a fussy queer.
Martha's guide to baking is painstakingly detailed and splattered with step-by-step images, not only of the creations themselves, but of tools and hand positions et cetera that assist the homecook in learning method as opposed to just one recipe.  The way the book is organized is so that you can progress through it as though it were a training manual; each recipes builds upon the basic recipes introduced at the beginning of each section.  I find this quite sensible, as you should master basic starter breads before moving onto challah.
If you're interested in baking, this is BUY NOW.  From cookies to cakes to bread, this thing has everything.
Bao's favorite recipe: white bread.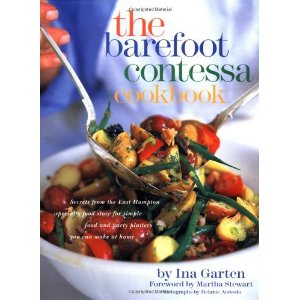 7. The Barefoot Contessa Cookbook
"How easy is that?" has become Ina Garten's motto as of late as many homecooks demand simpler, more accessible recipes.  I say screw that.
Garten's first cookbook, on its umpteenth reprinting, established her East Hampton sense of pride in sourcing local, quality ingredients and producing delicious, if sometimes expensive, fair.  It's a great book for the beginner cook who really wants to impress someone, be it for a simple family dinner, or a cocktail or dinner party.
Bao's favorite recipe: cheddar corn chowder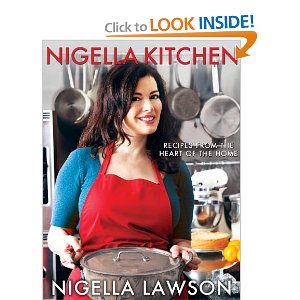 6. Nigella Kitchen
This is not so much a confession as a reaffirmation: I am in love with Nigella Lawson.  She is loaded for bear with an approachable, gentile charisma that behooves her recipes; they are comforting, unpretentious, and accessible.  Despite being crazy rich (she used to live next door to Margaret Thatcher), Lawon's Kitchen remains entirely economical and unfussy, something that most beginning (or cash-strapped) homecooks will appreciate.
More importantly, though, is the quality of food.  I'm usually not one for shortcuts in the kitchen, because I think that they often lead to a lack of complexity or flavor; Lawson, however, somehow manages to streamline hundreds (and I mean hundreds) of recipes — and create some zany ones — and still get maximum flavor.  The book is unique, slightly strange, and a very witty read thanks to Lawson's journalism background and literary education at Oxford.  And yes, I'm plugging my alma mater.
Bao's favorite recipe: tarragon chicken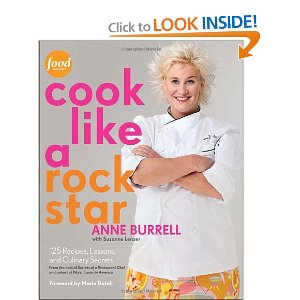 5. Cook Like a Rock Star
Anne Burrell's first cookbook is a testament to her style of cooking: confident, kind of sexy, and loaded with joie de vivre.  Written as though she were talking to you (complete with Anne-isms such as brrrrooown food, shooting match, and garlic destiny), I can personally guarantee that almost everything in this book, assuming you follow her guidelines of salting and tasting as you go, is mind-blowingly successful. The book trades heavily on Anne's culinary background — classic Italian — but she quite adeptly branches out into nouveau American.
I have never used a cookbook where pretty much every recipe I tried was a success.
I recently had the opportunity to participate in a transatlantic Food Network cruise where Anne was the guest, and she is hysterically inappropriate and delightful, and these traits carry over into her food. The title is completely accurate: this book will make you a rock star in your loved one's eyes.
Bao's favorite recipe: all. for realsies.  I have never used a cookbook where pretty much every recipe I tried was a success.  Get this book now.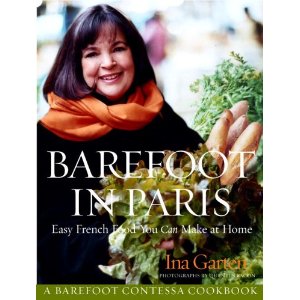 4. Barefoot in Paris
This book has incredibly strong sentimental value to me, but that's actually not the reason I list it as number four.  Much like Ina Garten, I am a francophile, and for years French food has been my favorite cuisine.  When I was first starting out, however, cooking French seemed a task equal in complexity to building a space station.
Garten takes classic French food and manages to preserve technique and flavor while very tastefully modernizing the dish in a way that makes it more accessible to the homecook who cannot acquire the tools or ingredients a Parisian could.  That being said, some of the recipes aren't for the faint of heart; this is no 'beginner' cookbook, and I was not quite up to the task when I first received it years ago.
Mastering these recipes will not only give you means to present your friends with French cuisine, but give you a good introduction to proper flavor and technique.  It was a bestseller for a reason, and anyone who wants to throw a good dinner party should have a copy on their shelf.  In particular, it has some of the best vegetable recipes of any cookbook I own, so those of you with any of those frail vegetarians as friends will have access to some satisfying grub to give the misguided souls.
Bao's favorite recipe: filet of beef au poivre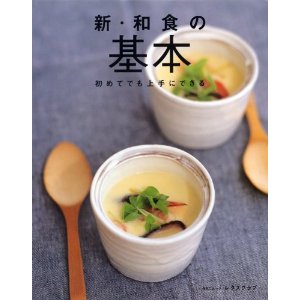 3. 新・和食の基本 (Shin – Washoku no Kihon / The [New] Basics of Japanese Cooking)
I know this book is not in English, and I don't care.  I will translate it for whoever imports it. Shin – Washoku no Kihon teaches even the most incompetent, culinary-challenged fool how to produce the staples of a Japanese diet.  It explains everything from the washing of rice to the proper handling and fileting of complex fishes, with every step beautifully photographed.  You will always know where to put your knife, you will know exactly with piece of cartilage to remove from a chicken thigh, and you will be dying to buy a Japanese omelet pan.
The food presentation is gorgeous, and as the book is cheaper than my sixteen year-old niece's friends, I would suggest purchasing it even as something pretty to look at (those interested, just let me know).  If you do insist on English, however, I suppose I could suggest Yasuko Kobayashi's Quick and Easy Japanese Cookbook, but it would be like ordering a nut roast instead of a succulent pork loin with crispy crackling.
Bao's favorite recipe: 豚のしょうが焼き (buta no shoga-yaki / ginger pork)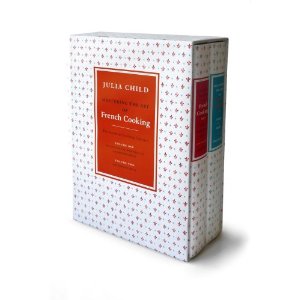 2. Mastering the Art of French Cooking
I'm not sure that this really needs an introduction; it's Julia Child, for chrissakes!  Anyone even remotely interested in food, epicurean history, or even American history for that matter should own a copy of the work that heralded the beginning of Child's career as a chef.
Stockpiled with more recipes than you can shake a stick at, Mastering the Art of French Cooking gives you tools to recreate some of the best that French cuisine has to offer.  Compared to modern cookery books, which are full of glossy photos of food made pretty by stylists, this set might seem archaic: all the pictures, when available, were drawn by Child's husband, Paul, and explanations are lengthy and very thorough. Years of work and testing, in a time when such things were unheard of, went into this masterpiece, and its contribution to American food culture is undeniable.
Bao's favorite recipe: the entire section on eggs.  I spent an entire term at Oxford practicing grips on a proper omelet pan (which I sadly do not have anymore).  I have never felt as delightfully pretentious as the day when I threw an omelet luncheon with champagne in my posh London flat.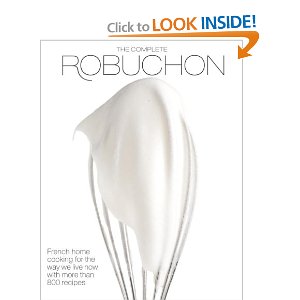 1. The Complete Robuchon
This is my bible.  Through this book I have found divinity.  Joel Atelier is my favorite chef, and I am fortunate enough to have eaten at his restaurant.  That is a tale for another time, however.  The book is what matters.
You cannot eat anything today without there being a touch of French in it.
I know that throughout this post I have brought up FRENCH COOKING! FRENCH COOKING! FRENCH COOKING! as though I had some sort of obsession (a statement probably not far from the truth), but let's be honest: all of the modern cuisine we enjoy today comes from France.  The way restaurants are run comes from France.  Appetizers come from France.  Pretty much any sauce you ever had has come from France.  Do you like macaroni and cheese?  Well, it's really pasta baked in a sauce Mornay (which itself is grated cheese mixed into a sauce bechamel).  My point is that you cannot eat anything today without there being a touch of French in it.
The Complete Robuchon is no frills.  There are no interesting or quirky asides, no insights into Robuchon's life.  The book is pictureless and rigid. But I promise you this: it will teach you more about cookery than any cookbook out there. If you're serious about becoming a true culinarian, Robuchon's guide to the basics of French preparation will provide you with the backbone to tackle any recipe that comes your way.  Some of the recipes are ridiculously simple and will make you wonder why people don't cook this way more often; some recipes will make you shake your fist in outrage (go ahead, make a demi-glace from scratch).
Bao's favorite recipe: the entire book is a gem, though I am particularly fond of carrot and orange soup.
There you have it, kids, my top ten!  There are a few honorable mentions, but I'm hungry after thinking of all that food and fancy going downstairs and making an omelet. x