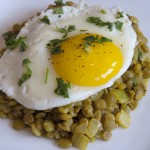 A few months ago I started an affair, the passion of which shows no sign of fading.  My partner is the lentil, a sassy little pulse delicious in any incarnation, be it brown or green or red.  Don't get me wrong; it's not that I've discovered the lentil only recently.  We've been acquainted for years.  It's more like growing up and suddenly realizing that your childhood friend is hot as hell and you are, in fact, in love with them.  So yes, my lentils, I love you.
I suppose that the big revelation came when I made salmon and lentils for myself a month or so ago, with the lentils dressed in a mustard and lemon butter.  It was pure sex, so much so that I insisted on making it for my friends (which led to what I like to call 'LentilQuest 2010' — a tumultuous traipsing around Rockville, Maryland to find the perfect lentil).  Despite having gorged myself on fried pickles at Hooters, which is a story for another time, I cleaned my plate — a rare occurrence for moi.
In any case, I eat lentils on an almost daily basis, either prepared simply, or jazzed up in some fashion.  Yesterday, for example, I decided to have lentils for breakfast, and since Matt and I love Indian flavors (nothing is better than garam masala, dudes), the following recipe was born.  You can serve the lentils alone, but I cannot imagine anything better than a fried egg on top, with the yolk oozing down…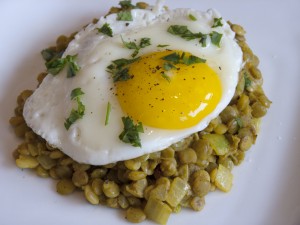 Curried Lentils and Eggs
Serves 2.
1/2 cup brown or green lentils
2 cups water
1 small onion, chopped
2 cloves garlic, chopped
1, 1/2″ cube of ginger, peeled and chopped
Pinch crushed red pepper flakes
olive oil for sauteeing
1 tsp garam masala
1/4 tsp fenugreek
1/2 tsp cumin
1/4 tsp coriander
1/4 tsp turmeric
kosher salt
juice of 1/2 lemon
1/4 cup heavy cream, plus more for thinning
1 tsp sherry vinegar or red wine vinegar
1 tbsp fresh chopped cilantro, plus more for garnish
2 eggs
Boil lentils in water with 1/2 tsp of salt until tender, about 15-20 minutes.  Meanwhile, saute the onions, garlic, ginger and red pepper flakes in a saute pan over medium heat until softened and beginning to brown.  Drain lentils and add to pan.
Add spices and 1 tsp salt, and cook over medium-low heat until the spices become very fragrant, about one minute.  Add lemon juice and stir to combine.  Add heavy cream and reduce heat to low, stirring until the lentil mixture has absorbed the liquid and become creamy.  Add vinegar, stir once more, then cover and keep warm.
Fry the two eggs to desired doneness.  I prefer runny eggs (the yolk really adds some nice flavor to the curry).  Remove eggs from pan and place on paper towels to drain excess grease.
Check lentils for seasoning; they can take quite a bit of salt.  Stir in cilantro and loosen with a splash of cream if the mixture looks too dry.  Divide the lentils between two plates and top each serving with a fried egg.  Season the egg with sea salt and freshly ground black pepper, then garnish with more cilantro.